Sat, 09/03/2011 - 12:51
Helping homelessness through football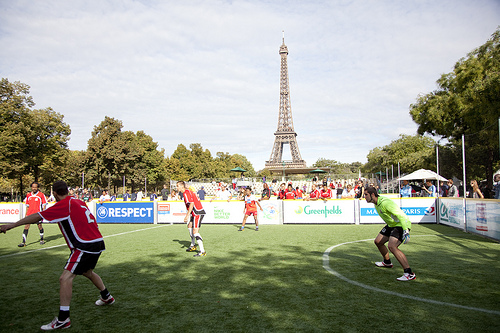 At the foot of the Eiffel Tower, in distinctly autumnal weather for August, the one of the world's largest international football events took place. Despite only having three 22 by 16 meter AstroTurf pitches, a total of just 12 event organisers and a budget of £3 million, the Homeless World Cup welcomed 64 teams from different countries, making a total of more than 600 participants - all of them without a home - to play football.
After week of intensive match play, the final saw Scotland beat Mexico 4-3 to lift the world cup for the second time in the tournament's nine year history. A 500-strong crowd from all over the world waved flags, sounded vuvuzelas and chanted throughout the match. There was undoubtedly talent on the pitch, and rumour has it that scouts were among the 500 watching, and had been all week.
It's a plausible rumour. In total 12 of the players have gone on to become professional or semi-professional footballers. Bébé, the Portuguese player signed to Manchester United last year for £7.2 million, also started his career in a team with the Homeless World Cup's Portuguese partners CAIS.
But according to Mel Young, 58, the founder of the event and internationally recognised as a leading social entrepreneur, the Homeless World Cup is not a about being a quick root to footballing stardom for the players.
Not just about football
"Really, it's not about creating these huge international stars, it's about integrating back into society, at least for some people who take part," he says in his soft Edinburgh accent, with one eye on the Russia v. Portugal game being played behind him.
"We do have some players who become professional footballers. It's true and it's brilliant, but to me that's the kind of like, Walt Disney kind of story.
"The Homeless World Cup, it's all about impact and change, it's all about using football as the front door, so to speak, for making change.
"Football's the unifying factor, the way we get people engaged. When we started in 2003 there was a group of people - young, male, homeless people - who were very difficult to reach. We tried to get them to do all sorts of things but they wouldn't be interested. So then we said to them do you want to play football, and their response was 'Oh, yeah!'"
And this 'oh, yeah!' factor seems to reverberate through the whole tournament. Ask any of the players from the UK, and they will tell you this homeless scheme has re-energised and motivated them the most out of all the (often numerous) projects in which they have participated.
The figures back it up too. In-house surveys, asking participants their status before the tournament and again six months after, show 77% of players went on to change their lives by gaining employment, accommodation or attending addiction treatment programs. Nearly all players, 94%, say the experience had a positive impact on their lives.
"It's a very simple barometer," says Young, who sounds as if he has over-whelmed even himself with the success of the event.
"But when I was working at the Big Issue and so on we never got figures like that. We had good figures but no where near 70%."
A real success story
One unmistakable success story comes from the manager of this year's winning team, David Duke. At the age of just 31, Duke is founder and CEO of Street Soccer, a Scottish foundation promoting positive change through football for the socially excluded. As well as running a national league and organising the Scotland team for the Homeless World Cup, Street Soccer also offers educational facilities and drop in programs. It helps about 1500 homeless people in Scotland per year, and is going from strength to strength.
But just eight years ago, Duke was homeless and unemployed himself. Following the death of his father, he lost his job and his house, and found himself in a homeless project shelter in Glasgow, drinking all day to pass the time. It was only when he was picked to play in Gothenburg, Sweden, in 2004, that his life changed for the better.
"When you're in a homeless project your whole health goes. Your sleeping pattern, your eating habits are nae the best. Getting involved with the football meant I started to look after myself," said Duke.
"The whole event was a big turning point for me. And after I went on a journey. I got my flat, I went to college, I volunteered for kids football teams because I wanted to become a coach."
For the 2005 and 2006 Homeless World Cup events, Duke was invited back to be assistant coach. He was made team manager in 2007 - the first year Scotland won the World Cup, in Copenhagen, Denmark. His real baby, Street Soccer, was established in 2009, off the back of attending the event in Australia.
"I realised that this," Duke gestures at the pitch next to him where his players are warming up for the final, "is great for the 8 players to go to the World Cup every year. But there's still thousands of players across Scotland needing an opportunity as well. So we set up a foundation that would let homeless fellas play football all the time."
Why is The Beautiful Game so effective?
So, just what is it about The Beautiful Game that helps so successfully men and women who, up until about three months before the start of the tournament, were homeless, unemployed or had some kind of addiction?
Mel Young believes it is the simplicity of the event that differentiates it from other homeless schemes. Working in a team, meeting new people, seeing a foreign country - the whole experience puts in place essential life skills and builds self esteem in a non-academic environment. Playing football is not patronising and does not judge your background.
"A key area which I always go on about is: if you want solutions to these type of issues, like poverty and homelessness, put the homeless person at the center of the solution," said Young. Being philosophical about the big issue comes easily to him.
"So what does the Homeless World Cup actually do here? We pay for these stands, we tell people about it. But it is them creating the atmosphere. It's the players who are jumping around, waving to the crowd. It's about them."
A real pick-me-up for the players
For some of the players it is hard for them to imagine any situation being solely about them. Jade Morrison, a 20-year-old midfielder for the Scotland women's team, and also this year's winner of the esteemed Woman of the Tournament medal, was depressed, drinking and unemployed just a few weeks before she started training for Paris.
Jade left the high school she was attending in Maryhill, Glasgow at the age of 15 with no qualifications. Since then, she has had only one job as a chamber maid at the local Novotel, where she stayed for just three months, and has been applying for 10 to 15 jobs per day ever since, all without success.
"I just basically left it [the Novotel], purely through sheer depression. I couldn't get out of my bed some days, I wasn't feeling up to it at all. I didn't feel like I wanted to leave the house at all sometimes, to be honest. And I felt like that up until recently, up until I started all this really," admitted Jade.
"I feel as if I was trying and trying and trying and nothing was happening. I just feel as if I was nae good enough, you know what I mean. And then with the football, because I know I am good enough, that makes me happy."
After her own personal success in the Homeless World Cup this year, going back to Edinburgh could have been a harsh bump back into her old life. But Jade is determined to join a football team and complete a coaching scheme with Street Soccer.
For her, the pride that comes with playing internationally for her country has boosted her confidence and self esteem for good.
"This is the best experience of my life, I'm never going to forget it. Before I felt as if I was nobody, but now I'm here representing my country against all these teams and it's the best feeling in the world. If there's a time where I feel I'm nobody again, I'll always remember this. Not everybody gets the chance to do this."
Ambitious in changing the world
With organisation for the 2012 Homeless World Cup in Mexico already underway, 2013's event planned for Poland and bids for the 2014 tournament coming in at an astonishing rate (23 countries have put their names forward so far), Mel Young and his staff look set to help 600 homeless people, like Jade, per year for a very long time.
Young's outlook is idealistic and ambitious, but for the past nine years he has proved that his ultimate goal is almost achievable: "I believe in a world where we shouldn't have any homelessness, we all have to do something.
"If enough people get passionate about this, it can change the world."
Comments or opinions expressed on this blog are those of the individual contributors only, and do not necessarily represent the views of FRANCE 24. The content on this blog is provided on an "as-is" basis. FRANCE 24 is not liable for any damages whatsoever arising out of the content or use of this blog.